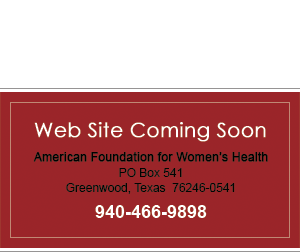 American Foundation for Women's Health
The American Foundation for Women's Health offers meaningful, practical information about critical health issues facing women. The AFWH strives to be a trusted resource for women and their families by empowering mothers, wives, sisters, and daughters to take control of their health and their lives.
Our founder, Mellanie True Hills, is a heart disease survivor and the author of A Woman's Guide to Saving Her Own Life: The HEART Program for Health & Longevity.
Since her brush with death during emergency heart surgery, Mellanie's mission has been to spread awareness of how you can save yourself from the #1 killer of women, heart disease, and the #3 killer, stroke. To further this mission, she founded the American Foundation for Women's Health.
Mellanie also survived blood clots and a close call with stroke due to a heart condition called atrial fibrillation. After suffering the debilitating effects of atrial fibrillation for several years, she is now cured.
Now she wants others to be able to manage their atrial fibrillation and avoid the potentially life-threatening chronic illnesses that result from it — congestive heart failure and stroke.
As a society, our understanding of atrial fibrillation and how to manage it is in its infancy. We have to change that to avoid a devastating impact on people, families, and society. Thus she has chosen atrial fibrillation as the first topic upon which the American Foundation for Women's Health will focus.
Our new site, StopAfib.org, focuses on spreading the word about atrial fibrillation and provides resources for atrial fibrillation patients so they can learn more about controlling and managing their condition.
StopAfib.org allows patients to share with other patients. We hope that you will find it valuable. It's not just for women — it's for anyone suffering with atrial fibrillation and for their families and caregivers.